Christmas is coming, and decorations begin to decorate shopping centers and shops. This also means that 2023 is just around the corner. It seems that the adoption of more and more digital goods and services is increasing in many industries every year. Luxury brands undoubtedly benefit from this transformation.
Due to the popularity of NFT collections, this paper aims to explore the trend of luxury brands integrating into digital fashion. Will this trend of buying products in digital really surpass the physical model? Many brands developed digital strategies after the COVID-19 epidemic. NFT has great potential and unlimited possibilities for the future of fashion, attracting the attention of luxury fashion tycoons.
NFT has changed the way brands and their customers interact. But not only that, the irreplaceability even allows brands to innovate their income models through the use of royalties and secondary markets. Another aspect of this "conscious" coupling also helps brands cut costs. Platforms such as Twitter and Discord have become new marketing channels, attracting communities with low costs, and creating new ways of communication and interaction for customers.
Gucci、Dolce&Gabbana、Tiffany&Co.、 Luxury groups such as Moncler and Burberry have joined the NFT competition. The data collected for Vogue Business Index in December 2021 shows that 17% of the brands in the index are already using NFT. As more luxury brands join the NFT trend and begin to try this new media, this number will increase in 2022.
Gucci is an iconic fashion giant that has existed since 1921. It is famous for its luxury, high-end design and high quality workmanship - now NFT. In cooperation with Alessandro Michele, the creative director of luxury goods of the brand, and Wagmi san, a digital artist, the 10KTF Gucci Grail series was launched in the first quarter of 2022. As part of Gucci Vault's meta universe, the director drew inspiration from his trip to Rome to create a floating city in a parallel universe.
In May this year, Dolce&Gabbana and Metaverse fashion company UNXD, headquartered in Polygon, jointly launched DGFamily Glass Box with Chainlink.
Moncler launched NFT series in October. Arianee, one of the leading web3 brand platforms, announced a partnership with the luxury brand. Moncler integrates Arianee's NFT and web-based hosted wallet solutions into its ecosystem to provide its most active consumers with a seamless experience.
As 2022 draws to a close, the price of cryptocurrencies will fall sharply. This in turn has seriously affected the sales of NFT. In 2022, the number of users of OpenSea, the largest NFT market, will drop sharply in 2022. The figure below shows the downturn in a month.
From October 24 to November 21, the monthly trading volume reached a range high of about $13 million, and now it has fallen back to $4 million. This has greatly reduced the bottom price of some top brands NFT series (the lowest price of a single NFT).
Take Gucci's 10KTF Gucci Grail series as an example. The casting price of the first generation NFT of this series was 1 ETH when it was launched (at that time, it was 2800 dollars).
However, in view of the price adjustment of Ethereum and the decline in interest, the current base price of OpenSea is 0.52 ETH (currently about 570 dollars). Similarly, the base price of Dolce&Gabanna Glass Box series decreased from 0.4 ETH a month ago to 0.24 ETH.
Other collections have also suffered from the anger of fading interest. For example, Tiffany and Co. raised more than $12.5 million for its first NFT series called NFTiff.
The series includes 250 CryptoPunk inspired NFTs, each priced at 30 ETH. At that time, the series sold out in about 20 minutes. Now the base price has fallen far below the mint price.
The base price of the above NFT collections has fallen below the mint price. This can be seen in the following chart, which contains data from Delphi Digital: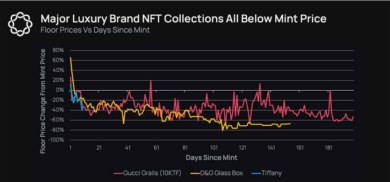 ending
Top brands are integrating technology to reshape brand image and consumer experience. Thanks to emerging technologies such as blockchain and irreplaceable token (NFT), the fashion industry is particularly experiencing historic changes. Despite the price slump, many luxury brands still regard the NFT market as an integral part of their business. Despite the decline in interest, some professionals believe that by 2030, the meta universe, games and NFT industries may account for 10% of the luxury goods market.