How to buy Bitcoin with credit card? Is it safe to buy Bitcoin with credit card? Surprisingly, the term "credit card" was first used to describe consumer card in 1887, which was mentioned many times in Edward Bellamy's utopian science fiction "Looking Back". Although at the beginning, this concept was slightly different from today's, and did not include debt borrowed from the authorities, credit cards have existed for nearly 150 years and will not disappear easily. People use it for convenience, but often beyond their ability to buy goods and services that they cannot afford without debt. In the long run, because of the high interest rate, those who do not have good capital management skills may be in financial distress if they do not pay their debts in time.
Unless the Bitcoin standard encourages credit card users to tear up that plastic paper forever and live a debt free life, people will continue to spend money they do not have. Many Bitcoin creators will argue (ironically or otherwise) that the only meaningful use of credit cards is to buy more Bitcoin. "Whether it's a joke or not, you should know the tradeoffs involved in using credit cards to buy Bitcoin, because the additional cost of the transaction may not be worth it.
How to buy Bitcoin with credit card?
Depending on the jurisdiction or type of cryptocurrency exchange, you may need to go through a verification process before purchasing Bitcoin with a credit card.
Before connecting your credit card to your exchange or broker account, you must open an account with your service provider and verify an identification method, usually a passport or driver's license.
Here are the general steps to purchase Bitcoin with a credit card:
Registration: Most platforms will require you to pass the KYC program and verify your identity. Only after that can you buy Bitcoin with a credit card or any other available payment method.
Link credit card: After registering and verifying your account, you can link a credit card from the payment settings page.
Set the amount of immediate purchase: Some platforms will require you to use your credit card to purchase legal tender and deposit it in your exchange or broker account before executing any transaction. Others will allow you to use your credit card to deposit your money directly in your personal wallet. Check your options with the exchange and make sure you have a wallet address to buy.
Select the "Buy with credit card" option and click "Buy".
Advantages and disadvantages of using credit cards to purchase Bitcoin
advantage:
Convenience: You can buy Bitcoin even without cash.
Speed: If the Bitcoin Exchange you are using allows, you can buy Bitcoin with a credit card. Although bank transfer may take two days to process, shopping with credit card is instant.
Fund: Credit card is a simple way to buy Bitcoin; However, you are entering a financial institution's debt, you should consider that the interest rate and transaction costs may be very high.
Rewards: If your provider allows cryptocurrency, you can accumulate credit card rewards, such as cash returns, travel points, or miles.
Disadvantages:
Debt: When you buy goods or services with a credit card, in addition to the high transaction costs, you also owe a debt to a bank or financial institution and agree to pay a potentially high interest rate.
Cash Advance: Imagine using a credit card to withdraw cash from an ATM machine: they are more expensive than debit cards. Buying Bitcoin with a credit card can be regarded as prepaid cash by the card issuer. You should consider the following fees applicable to such services:
The fee may be as high as 3-5% of the transaction amount.
If you don't pay your credit card bills for the whole month, the annual interest rate will be very high.
Lose the usual 21 day grace period and charge you interest.
Lose the reward because your issuer may not apply the reward to crypto purchases because it is considered a cash equivalent.
KYC: The "Know Your Customer" program is widely used to purchase Bitcoin with credit cards, so that the card issuer may prevent you from purchasing based on the volatility and fraud possibility of Bitcoin.
Credit score: Depending on your jurisdiction and credit card provider, your credit score may be affected.
High cost: The total cost of buying Bitcoin with a credit card may be considerable.
In the next section, you will find details of the types of fees that credit card providers and transactions used to purchase Bitcoin need to consider. Remember to consider these when buying Bitcoin with a credit card, because they can make a big difference in the final bill.
Expected expense type
Credit card company fees
If financial institutions or banks allow customers to buy Bitcoin with credit cards, they will charge some fees that are usually higher than other payment methods. This is because credit card issuers treat bitcoin purchases as cash advances rather than regular purchases:
Cash in advance: The cost may be as high as 3-5% of the transaction amount.
Prepaid cash interest rate: The annual interest rate may be very high, usually more than 25%, calculated from the day you buy Bitcoin until you pay off the loan. This is in contrast to the normal card purchase interest rate, which starts to be charged after three to four weeks, depending on the card provider.
Cryptocurrency exchange fee
Although most cryptocurrency exchanges and brokers will let you buy bitcoin with credit cards, you should not take it for granted. Due to the refund time limit, many Bitcoin services do not allow credit card purchases because credit card transactions may take up to six months to complete.
For those services that provide credit card purchase of Bitcoin, the fees are as follows:
Commission or service charge: apply for using credit card to purchase Bitcoin. For example, an American cardholder who purchases Bitcoin with a credit card may pay a commission of about 3% to the exchange.
Foreign exchange fees: If the exchange is outside your jurisdiction, you may need to pay a foreign exchange fee that is usually 3%.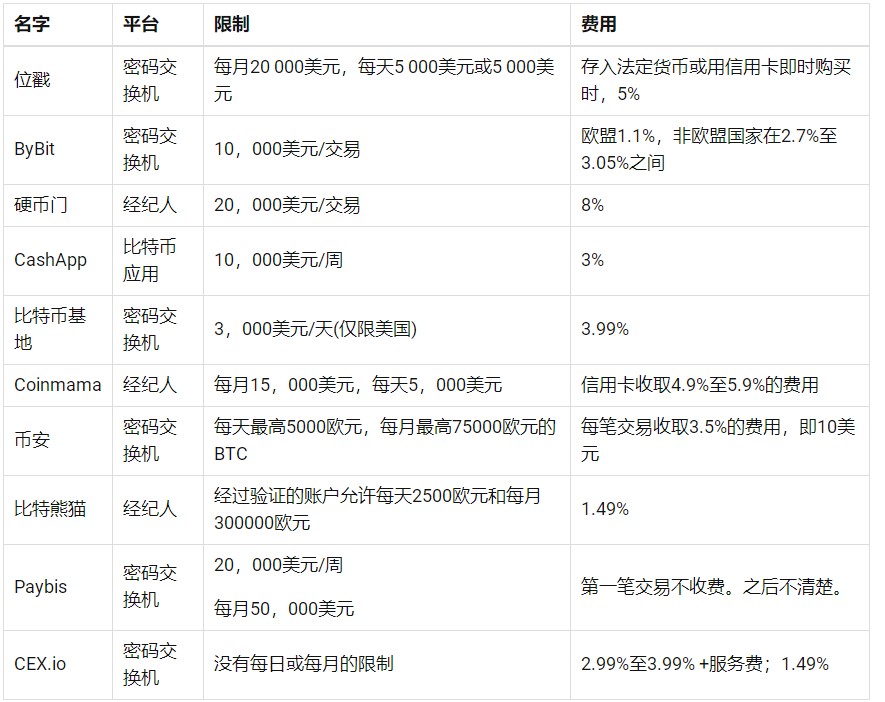 Is there a better choice than using a credit card?
There are better ways to buy Bitcoin, cheaper and more anonymous. There is no doubt that credit card is the most convenient way to buy. However, if you can take your time, you should consider alternatives such as bank transfer. If you want to buy Bitcoin anonymously, you can even consider gift cards, prepaid cards and cash.
common problem
How long does a credit card bitcoin transaction take to complete?
Depending on your credit card issuer, it may take 30 minutes to several hours on average, but it may take up to 12 hours if the financial company needs to check additional ID and bank information.
Is it safe to buy Bitcoin with credit card?
In addition to the typical problems associated with the risk of using your bank information online, it is safe to use a credit card to purchase Bitcoin.
Can I recharge my Bitcoin wallet with a credit card?
Yes, unmanaged brokers like Coinmama, Coingate and Paybis allow you to buy Bitcoin and send it directly to your wallet.
What apps can I use to buy Bitcoin instantly?
Most applications require you to balance with their platform before buying Bitcoin. However, this balance can immediately fill the credit card, giving you the opportunity to buy Bitcoin immediately afterwards.
summary
Credit cards should not be used for regular purchases of Bitcoin. If you are eager to purchase Bitcoin or are trying to purchase Bitcoin for the first time, it should be a one-time purchase. This is a convenient way to trade, even if you have no cash, you can also buy Bitcoin. However, its disadvantages outweigh its advantages, which you may have realized from this article. Since there are many options for buying Bitcoin, we suggest you explore and choose the one that is most suitable for you.